Preserving Your Wedding Gown
Perhaps the most exciting and anticipated detail of the wedding planning is selecting your dream wedding dress, but what happens after its moment in the spotlight? Don't neglect your beautiful gown after your nuptials are through. Instead, consider having the dress preserved so it can be enjoyed for years to come.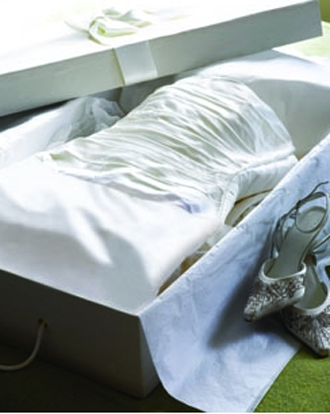 What is dress preservation?
Specialists meticulously clean your garment, ridding it of any stains from the wedding day, and then carefully package it to ensure that it doesn't yellow over time or get damaged in any way. After assessing the gown's specific details, including materials used, decorative embellishments, and stains, a cleaning specialist will determine a specific cleaning method for the gown. The dress is then wrapped in safe materials—typically acid-free tissue paper or unbleached muslin—and placed inside a sealed box.
Why should you preserve your dress?
Not only did you spend major bucks on your wedding gown, it also carries the significance of your special day. By preserving a gown, you eliminate the threat of it becoming yellow, permanently stained, wrinkled, or misshapen. A preserved wedding gown can also be used later in life, whether for a vow renewal ceremony or for your own daughter's nuptials.
When should you preserve your dress?
Professionals recommend that you have the dress cleaned and preserved as soon as possible after the wedding. This will ensure that stains are treated quickly and efficiently before having time to set and that the dress will not face the chance of becoming ruined or damaged in any way.
Who should preserve your dress?
To guarantee that your dress is handled professionally, make sure you select a specialist in wedding gown preservation. While many dry cleaners will boast wedding gown cleaning services, not all of them are created equally. Speak to a salesperson at the boutique where you purchased your dress and find a recommendation, or scour the internet for reviews on local vendors.
How much does it cost?
Prices may vary depending on a number of factors, such as intensity or number of stains, dress fabric, and city of the cleaners, but on average, you can expect to pay between $200-400 to have dresses cleaned and boxed.
Are there any alternatives?
If you don't want to foot the bill to have your gown professionally preserved, or you simply don't care about keeping it, there are a few alternative options. For starters, you can try to package the dress yourself by wrapping it in a white sheet and storing it in a sturdy box. Some brides opt for a "trash the dress" ritual where gowns are destroyed after the wedding (either by fire, water, or simply rolling in the mud) and the affair is captured on film. Lastly, if you want to actually use your wedding gown again, why not have it dyed and shortened into a cocktail dress. Many wedding boutiques and designers offer this as a service who want to re-purpose their gowns.
0
0
Chicago Wedding Blog
https://chicagoweddingblog.com/wp-content/uploads/2014/03/Chicago-Wedding-Blog.png
Chicago Wedding Blog
2012-05-17 14:39:25
2012-05-17 14:39:25
Preserving Your Wedding Gown